Score: 2 / 3
~11:01 in Leslie's room; she is just trying on her wedding dress for the first time.
Ann: I gathered up all the meaningful bills, pictures, documents and memos from your career. What do you think? Is it okay?
Leslie: It is the most beautiful object I have ever seen. It is like the Ann Perkins of dresses.
Ann: Yayyy!
Leslie: It is amazing.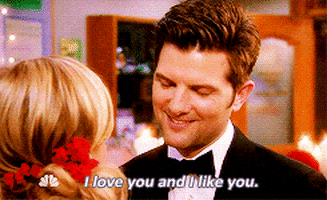 More:
- There are tons of exchanges (April asking to adopt Ethel, Leslie assigning wedding planning tasks to April and Ann,
etc.
) that would pass if this episode didn't fly by
so
quickly - very few exchanges are actually more than three lines of dialogue.
- Ann asks Leslie to join her at city hall for champagne.