Score: 3 / 3
~2:00 in at City Hall
Leslie: Ann, I just wanted to say I'm sorry if I put you on the spot when I asked you about your love life. How are you doing?
Ann: You know, I'm mostly fine being single, it's just this time of year with the hearts and roses it just gets me a little down. But Galentine's Day made me feel better! So, thanks.
Leslie: Oh, Ann. You beautiful spinster. I will find you love.
Ann: What? Did you say something?
Leslie: Nothing, I love you!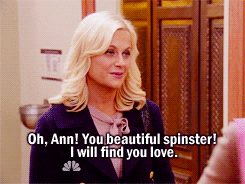 More:
- Leslie talks to Ann a few times about how she's feeling.
- Leslie motivates April to help Ann (though the method is through introducing her to a suitable partner).
- Ann thanks Leslie for her efforts.
- Leslie and April gossip about Ann.