Score: 3 / 3
~0:15 in Leslie & Ben's house. Jennifer Barclay has come by in a poncho.
Jennifer: Leslie, you ready?
Leslie: Me, Leslie?
Jennifer: Yeah.
Leslie: I was an actual candidate, so I feel like I can handle being a candidate's wife. I know all the issues inside and out!
[They go on, talking about the role of a wife in an election.]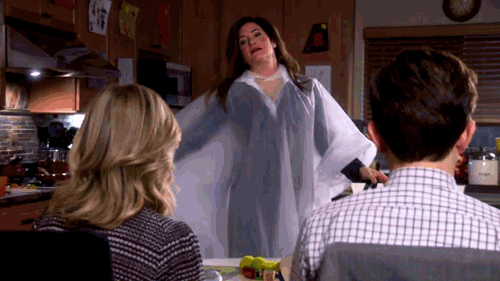 More:
- Elise Yarktin from the Indiana Organization of Women confronts Leslie about her decision to join the Pie-Mary.
- Joan Callamezzo has Sasha Dunkirk, Marsha Langman, Brandi Maxxxx and Elise Yarktin on Pawnee Today; Marshall Langman and Kipp Bunthart also participate, but the conversation is mostly among the women and regards Leslie Knope, the Pie-Mary and feminism.