Score: 3 / 3
0:00 on the third floor of City Hall.
Leslie: Okay, so the central question that these senators are gonna be asking is "Why should we invest in the National Parks Service?" April!
April: Well, it is simple Leslie. In today's fast-paced society, national parks are still the best place for a full-moon werewolf transformation.
Leslie: I know you're kidding, but I also know you're prepared. We are gonna do great! How psyched are you for this trip? April! Are you super-psyched!?
April: Yeah... also you have lipstick on your teeth.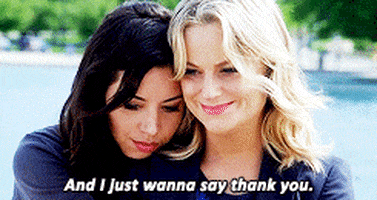 More:
- Leslie asks April about her future during "unstructured chat time" at the airport; they talk about Washington, DC; Leslie apologizes to April; Leslie introduces April to Alyssa from the career center; they recap from April's conversation with Alyssa.
- Leslie and April have meetings with Senator Barbara Boxer and Kirsten Gillibrand.
- Leslie get lunch with Madeleine Albright and they discuss Leslie's habits as a friend.